Interface install instructions for the H1-C1 interface for Rego1000 based heatpumps such as the IVT Greenline HE / HC series.
Thank you for purchasing our solution for IVT / Bosch / Buderus / Junkers heat pumps using the H1 interface. This interface is easy to install and supports upgradable firmware to enable for coming features. The H1 interface has to be synchronized (teamed) with your specific version of Rego1000. This will happen automatically at first power up of heat pump. Shortly after H1 har been synchronized there is a risk that communication problem alarms will be raised. To avoid that, restart the heatpump after 2 minutes of the first start with the interface. After synchronisation is performed it will be no alarms on power up of heat pump.
Steps to install interface
1. Power down the heat pump and open the front cover and the cover for the electrical parts.
2. Pull down the interface cable from a cable-hole on the heatpump top.
3. Locate the I/O card as pictured below.
4. Connect the 4 wire cable as instructed.
5. Power up the heat pump. (The interface LED will first lit continously for about 10 seconds and then blink irregular when syncronized successfully)
6. After about 2 minutes, power down the heatpump once more and then power it up again (This is to avoid alarms after H1-Rego1000 has syncronized/teamed with your Rego1000)
Code: Select all

Colour function Plint no
Black Ground 35
Green can L 36
Yellow can H 37
Red +12v 38

The cable is connected to the closest black plint. (plint no 35-38)
Be very careful and double check that wires are conneted correct and are not loose.
The Interface connected to standard size Greenline heat pumps with PXB i/o board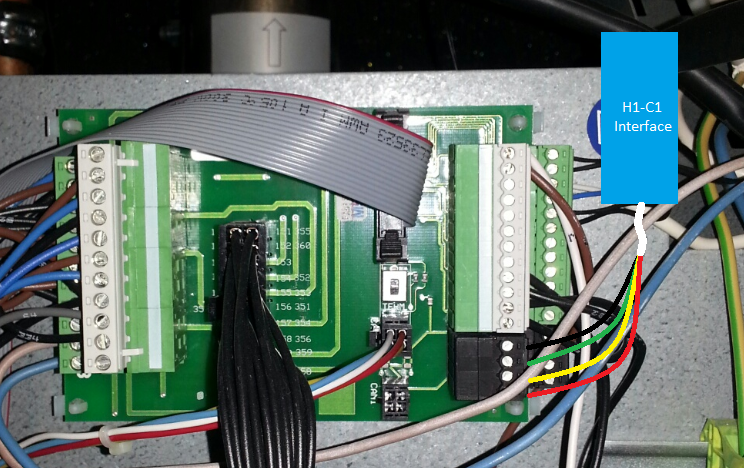 The Interface connected to larger Greenline heat pumps with PEL i/o board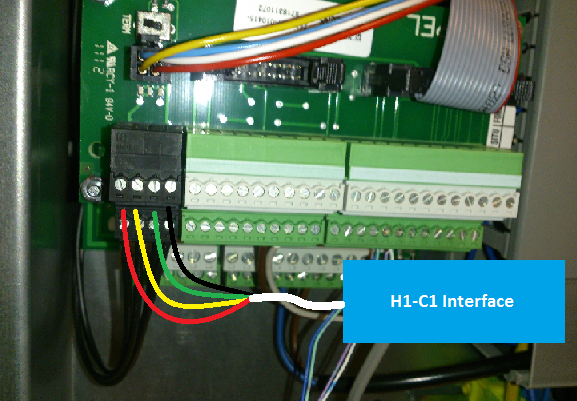 For easier access, the black connector can be pulled off.
Troubleshooting
Correct behaviour
At FIRST power up of heat pump the LED flashes 12 times and then irregular for 6 seconds, Then LED lit continuously for about 8-15 seconds.
After that it should flash irregular and fast continuously.
At power AFTER the first start up of heat pump the LED flashes 12 times and after that irregular continuously.
Failing behaviour
LED flashes 12 times and then stops for 1 second, an repeat again (The firmware is missing, interface is in boot loader status, try to upgrade interface using StatLink)
LED flashes 12 times and then stops for 6 second, an repeat again (The interface cannot communicate with CAN bus correctly, check connections to heatpump)
LED is not lighting up. (No power to interface or broken interface)